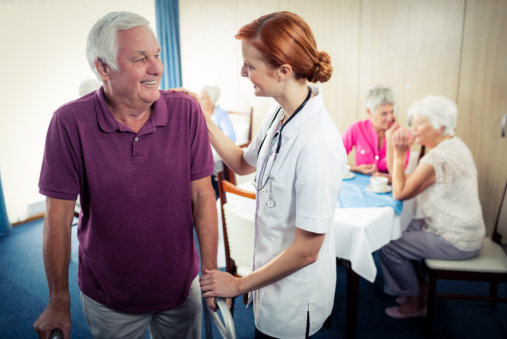 There is no shortage of job opportunities for Certified Nursing Assistants (CNAs) within the next twenty years. According to the US Bureau of Labor Statistics, the job outlook for CNAs grows at 11% rate based on their projection until the year 2026. The positive outlook is primarily contributed by the increase of seniors from the baby boomer generation.
CNAs are required to undergo certifications from a reputable healthcare academy in Maryland so that they can qualify to work in the following employment environments:
Home Health Care Facilities
These facilities provide care and assistance to patients who prefer to stay in their own homes. The CNAs work under the supervision of registered nurses in administering medications and care to homebound clients. Most of these patients are elderly persons with health needs. However, patients with disabilities or recovering from surgery or injury are also cared for.
Nursing Homes
Working in nursing care facilities is also a strategic jump-off point for CNAs. The work environment enables the CNA to increase in their nursing skills due to the many patients they will have to care for. This is a great training ground for CNAs who want to pursue a fulltime healthcare career.
Local Hospitals
The competition to get into the local hospital is very high. However, this is still a working environment that CNAs can serve in. Many patients admitted to local hospitals can greatly benefit from the assistance of nursing aides. Get the adequate healthcare training for CNAs so you can be qualified to apply in the hospital nearest your location.
Assisted Living Homes
CNAs are also highly needed in many assisted living facilities. These are the healthcare establishments that cater to seniors who are still independent but whose homes are no longer conducive to their wellbeing. In assisted living homes, clients are able to do most things by themselves, but they will need assistance on minor aspects.
Traveling CNA
There are also CNAs who can work as a traveling CNA. These are the work opportunities typically for short-term care, wherein the nurse aides are required to travel to different locations. Employers for traveling CNA may require applicants to have a clean driving record as they may be assigned to long-distant locations. As this is mostly for short-term care arrangements, many traveling CNAs work to fund their studies to become registered nurses.
If you or someone you know keep plans on pursuing a career on providing Health Care Services in Lanham, Maryland, we can help you. At Dominion Academy And HealthCare Services, we administer high-quality training programs to equip you in becoming a highly qualified nursing assistant in your ideal working environment.
As a healthcare institution, we are committed to providing excellent education knowing that the healthcare industry is not only an employment opportunity but an opportunity to save lives as well. If you're intent on building a healthcare career, build your foundation in this academy.
Would you like to know more about our training programs? Ask us.