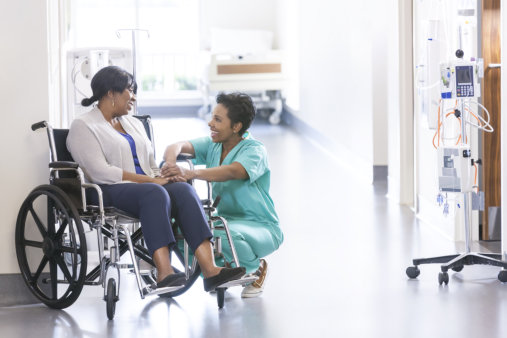 Have you long been entertaining the thought of enrolling in a healthcare academy in Maryland? Have you been seriously considering pursuing the path of a steady healthcare career? Are you looking for a job opportunity where you don't just grow professionally, but you can also make a great difference in other people's lives?
If your answers have all been YES, then the education of a certified nursing assistant (CNA) is the path for you. This nursing career is open to many different workplace settings, making your options very wide. In fact, our enrollees for CNAs at Dominion Academy And HealthCare Services have been steadily growing. More and more people have seen the value and necessity of taking part in the healthcare industry. If you know someone who is still weighing their career options, invite them to enroll in our academy today. Even if they would like to put off working in a healthcare industry, their healthcare training can still be very instrumental in their day-to-day life.
However, going back to career options, here are at least four major job settings for CNAs that they can consider even while they're still training.
HOSPITALS
As the leading facility for health treatments, hospitals are ideal avenues for CNAs to nurture their healthcare career. In this setting, they can also explore more CNA work opportunities in the hospital's different departments. However, working in the hospital can put a CNA in a very strong competition. As a result, their application may take longer to process. For that, many CNAs consider other healthcare facilities other than hospitals.
SKILLED NURSING FACILITY
In these facilities, patients are provided with monitored care and assistance to address their medical and health needs. It is in this setting that CNAs are very much needed because of how the patients can benefit from their assistance. There are a lot of opportunities for CNAs to gain regular employment in skilled nursing facilities. They are also in an environment where their skills and expertise are honed. For this reason, many CNAs begin their healthcare career in these facilities.
HOME HEALTH COMPANY
These are the care and assistance services provided in the patient's home. Because more and more seniors prefer to receive this kind of care in their home, the need for CNAs working in this setting also increases. Add to this, the CNAs also have the opportunity to expand their skills and experience because of the many home health agencies open to get them.
ASSISTED LIVING CENTER
In these agencies, clients are provided with assistance and support even when they are able to carry out tasks on their own. For this, CNAs are greatly needed in the patient's needs for Health Care Services in Lanham, Maryland. CNAs also have the opportunity to work out their skills and knowledge in caring for a patient.
Which among the four is your most preferred work setting? Whichever that is, we hope that your career goals continue to soar!